the entire 2021 FOMS Concerts
Month of Music # 1
Sunday, 17 January 2021, at 2pm
Month of Music # 2
FOMS 3
21 February 2021 @ 2pm
Gintaute Gataveckaite and Tristan Lee, (piano duet and piano solo): Popular Melbourne pianists Gina Gataveckaite and Tristan Lee perform selections of repertoire for piano solo and duet before their upcoming Melbourne Recital Centre concerts. Featuring solo works by Beethoven, Kats-Chernin and Auerbach, and Rachmaninoff's wonderful duet suite on Tchaikovsky's Sleeping Beauty.
FOMS 4
21 March 2021 @ 2pm
Alex Meikle-Briggs violin, Berta Brozgul piano. British violinist Alex Meikle-Briggs, recently relocated from London, is joined by pianist Berta Brozgul in a recital featuring passionate works by Elgar, Franck, Amy Beach and Manuel de Falla.
FOMS 5
18 April 2021 @ 2pm
Divisi Chamber Singers: La Nuova Musica: An enchanting selection of 17th Century and contemporary Madrigals. With works by Monteverdi, Gesualdo, Strozzi, Katy Abbott and Gavin Bryars.
FOMS 6
16 May 2021 @ 2pm
Inventi Ensemble: Inventi Ensemble presents Grieg's Peer Gynt. This beautiful music features familiar favourites such as 'Hall of the Mountain King', 'Morning Mood' and 'Solveig's Song'. Inveti's recording of this work debuted in the ARIA top 20 and features a narration through the concert telling the hilarious, absurd and tragic tale of Peer Gynt. Also featured is a new partner piece to the suite by Melbourne based award winning composer Melody Eötvös. Inventi are renowned for creating new ways of listening to these familiar works. This will be wonderful afternoon of music.
FOMS 7
20 June 2021 @ 2pm
Christopher Wayne Smith, piano: British-Australian pianist Christopher Smith presents a kaleidoscopically colourful program, with Linda Kouvaras's evocative Three St Kilda Sketches, Liszt's 2nd Ballade, and Rachmaninoff's virtuoso powerhouse 2nd Sonata.
FOMS 8
18 July 2021 @ 2pm
Chistopher Nankervis and Kalimna Trio: St George's FOMS favourite Chris Nankervis (piano) returns with Kalimna Trio, with Vicki Hallett (clarinet) and Lachlan Dent (cello), presenting an exciting programme of works spanning the time of Brahms to today.
FOMS 9
22 August 2021 @ 2pm
Duo Eclettico – Justin Kenealy, saxophone, Coady Green, piano: Australia's busiest classical saxophone and piano duo present an afternoon of virtuoso works for saxophone and piano, including a selection from their latest recording.
FOMS 10
19 September 2021 @ 2pm
Christopher Cox, tenor, Coady Green, piano: British-Australian tenor Christopher Cox is joined by FOMS Artistic Director Coady Green to present a moving program of 20th and 21st Century songs by British and Australian composers.
FOMS 11
24 October 2021 @ 2pm
The Parlour Opera Gala: Beloved Melbourne-based vocal ensemble The Parlour utilises some of the most exciting established and emerging singers in the country. Their opera gala is combines works from the great operas that we all know and love, and combining these with some lesser-known gems.
FOMS 12
21 November 2021 @ 2pm
Laila Engle, flute, Ken Murray, guitar, Merlyn Quaife, mezzo-soprano: Three of Melbourne's most acclaimed musicians join forces to present an enchanting afternoon of music for voice, flute and guitar.
FOMS 13
19 December 2021 @ 2pm
Georgina Lewis, piano, Natasha Conrau, violin, Steph Arnold, cello: Under the Influence: In putting this program together Solstice Trio explore the idea of influence on creativity. How these different composers were influenced by the circumstances they found themselves in, by new instruments, by their surroundings and by each other.
Program includes works by Hildegaarde von Bingen, Clara Schumann, Peter Sulthorpe, Missy Mazzoli, Arvo Pärt and Cécile Chaminade.
Archive
Sunday, 20 December 2020, at 2pm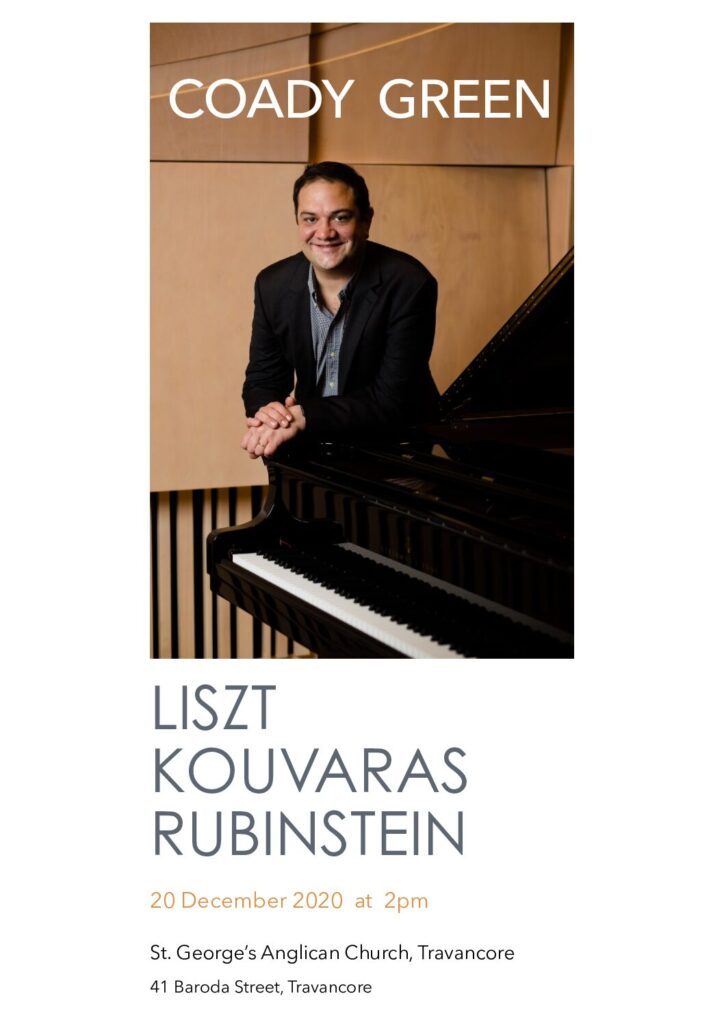 Subscribe to FOMS News here :